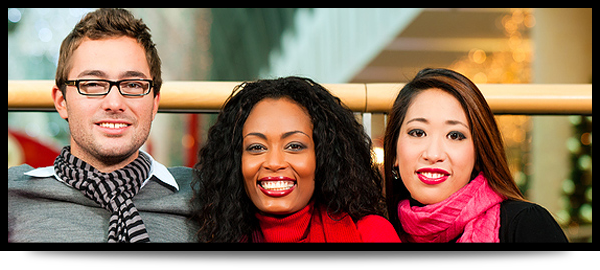 What Sets Us Apart? Our Principles of Excellence.
Alongside the promises to our patients, we offer an ultra-convenient location and a set of principles that define who we are, where we're going, and why we're going in that direction.
Location.
Conveniently located on the outside of Richmond Centre, our practice is easily accessible with plenty of free parking. We are easy to find next to Tim Hortons.
Family Friendly.
We are thrilled when generations of patients come to us for their oral health and cosmetic dentistry needs. Our gentle approach makes Affinity Dental the ideal dentist for children and seniors.
Individualized Treatment Planning.
We take the time to sit down and talk with you in order to create a treatment plan tailored to your specific dentistry needs.
Relaxed Atmosphere.
Everything from our warm, welcoming staff to our serene stylish decor will put you at ease from the moment you walk in the door.
Community Oriented.
We take the time to get to know our patients, because we are a small clinic we maintain a genuine, honest approach to dentistry that our patients appreciate.
Pain Free Dentistry.
We ensure you are always comfortable and that your procedure is pain free and safe. We offer sedation for our anxious patients or those who wish to complete several procedures in one extended visit.