Invisalign® Treatment in Richmond
We are a Gold + Invisalign® Provider
Dr. Mehrdad Ezzati is a Gold + Invisalign Provider, which is because of his level of education and experience with Invisalign.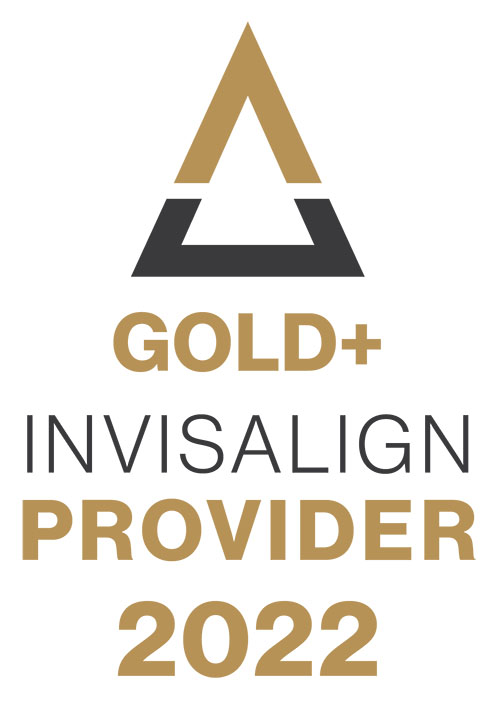 Invisalign® Treatment Near You
Invisalign is an orthodontic alternative to traditional metal braces. This treatment uses clear plastic aligners to straighten your teeth in place of highly visible wires and brackets. While Invisalign isn't an option for every patient, it can offer an enticing alternative for most individuals who need teeth adjustments and want a less noticeable option.
Virtual Invisalign® Consultation
With the My Invisalign mobile app, you can start your journey to a healthy, beautiful smile online!
How Does Invisalign Work?
Invisalign uses a series of plastic trays to adjust your teeth gradually. You will change to a new tray every one to two weeks. Each tray pushes your teeth closer to your final goal. The trays are removable, so you can take them out to eat and to brush your teeth. However, it's important to note that you need to wear the aligners for 20 to 22 hours a day for them to work properly. Though this option is less visible than traditional braces, it is still something that requires nearly constant contact with your teeth.
Who Can Use Invisalign?
Invisalign works for most types of teeth-straightening. Invisalign has been used successfully for many different problems, including:
Overbite
Underbite
Crossbite
Gap teeth
Crooked teeth
Crowded teeth
Open bite.
While most patients can use Invisalign successfully, it's still important to set up a consultation with one of our orthodontists to make sure this treatment plan is the best option for your smile. We can confirm whether Invisalign is the right choice for your needs and get you started on your path toward straighter teeth.
Getting Started With Invisalign
Once you've committed to using Invisalign for your orthodontic needs, we will take impressions of your teeth. We send these molds to the Invisalign team for analysis using the ClinCheck software system. This software generates a virtual treatment plan that outlines how each Invisalign aligner tray will gradually move your teeth. We check over the treatment plan back at our office and give it the final approval before your trays are made.
After your orthodontist approves your treatment plan, Invisalign begins production of your custom aligners. You will typically get six to eight weeks of aligners from your orthodontist at a time. At this point, you will meet with your orthodontist for an examination and receive the next set of aligners to continue your treatment.
Some patients need SmartForce attachments on their teeth to secure the aligners properly and ensure they're putting the right amount of pressure on your teeth. Also known as buttons, these small dots adhere directly to the teeth. They are typically placed in the middle of the tooth. You may need them on all your teeth, some of your teeth, or none of them. Speak with your orthodontist to understand better whether you'll need additional attachments with your Invisalign aligners.
The Invisalign Treatment Process
Once you have your aligners in hand, you can begin your Invisalign treatment. You should plan to wear the aligners at all times unless you are eating or brushing your teeth. Though these trays are removable, they're not meant to come out often. You should keep your aligners in for a minimum of 20 to 22 hours a day for the best results.
When you remove the aligner to brush your teeth, you should clean this tray as well. Though the plastic is clear, it can become discolored if it's not cared for properly. Any yellowing of the aligner tray will make it more visible on your teeth. It's best to brush the tray with Invisalign Cleaning Crystals.
You should never smoke or chew gum while your aligner tray is in. In fact, you should remove it for all meals and snacks, and brush your teeth before putting the tray back in. Visit your orthodontist every six to eight weeks for a checkup to make sure your Invisalign treatment is progressing as it should.
Side Effects of Using Invisalign
As with any orthodontic treatment, you may experience some pain and pressure when you're using Invisalign. This is particularly noticeable when you've first inserted a new tray. Some patients have the choice between biweekly and weekly tray changes. If you choose to change your tray more frequently to accelerate your treatment process, you will typically experience more discomfort throughout the process as a result.
Some patients also experience discomfort along the gum line, where the aligner may rub against this delicate tissue. If you have this problem, speak with your dentist about possible adjustments. Reshaping the aligners slightly may resolve your issue.
If you're interested in exploring Invisalign as an orthodontic solution for your dental issues, make an appointment to consult with one of our orthodontists now. After a close examination of your teeth and a discussion of your needs, we can determine whether Invisalign is the right approach for you. If so, we can get you started on your path toward a quick and efficient treatment plan using this popular treatment method.
Considering Invisalign® treatment?
Meet the My Invisalign mobile app.
The My Invisalign app allows you to manage your Invisalign journey from your device!
Invisalign SmileView™
Simulate how your smile could look!
Treatment financing
Apply for a loan with no money down and low monthly payments.
Insurance coverage
Explore your insurance options — you may be covered up to $3,500.
Why Use The My Invisalign Mobile App?
Staying on track with your Invisalign® treatment has never been easier.
Use the custom aligner tracker

 

to help stay compliant with your doctor's recommended wear time.

Receive reminders

 

and notifications to help you stay on track with your Invisalign treatment.

Save photos

 

and comments to your Smile Gallery as you progress towards your new smile.
Get answers to commonly asked treatment questions.
View and share your progress video and before & after photos with friends and family.
I'm Ready To Get Started!
Book Your Invisalign® Treatment Consultation At Your Richmond Dentist